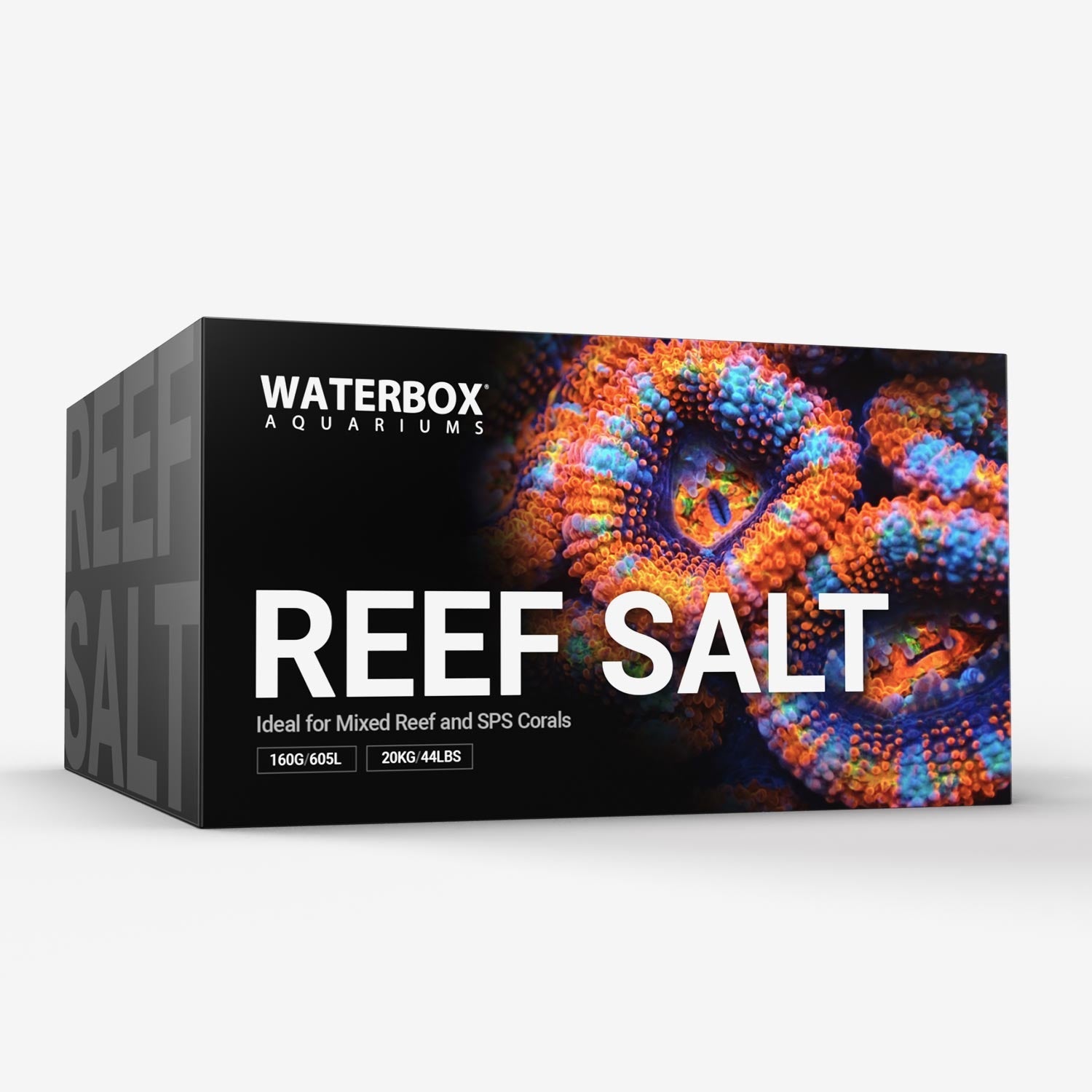 REEF SALT
• 20kg/44lb 160 gallon box
• 4 x 5kg/11lb bags
• Designed specifically for mixed reefs and SPS
• Synthetic Reef Salt Mix
• Full of major an minor trace elements
• Ultra-fast and clean mixing
• ICP-OES tested every 2000lbs. produced

In Stock. Ships in 1-3 Business Days.
Waterbox Aquariums Reef Salt
Developed for Reef Aquariums
Formulated for the most discerning Reef Aquarium hobbyists, our REEF SALT is one of the fastest mixing, cleanest and most consistent salts in the industry. Each box contains optimal levels of minor and major trace elements to ensure beautiful coloration and growth of your corals.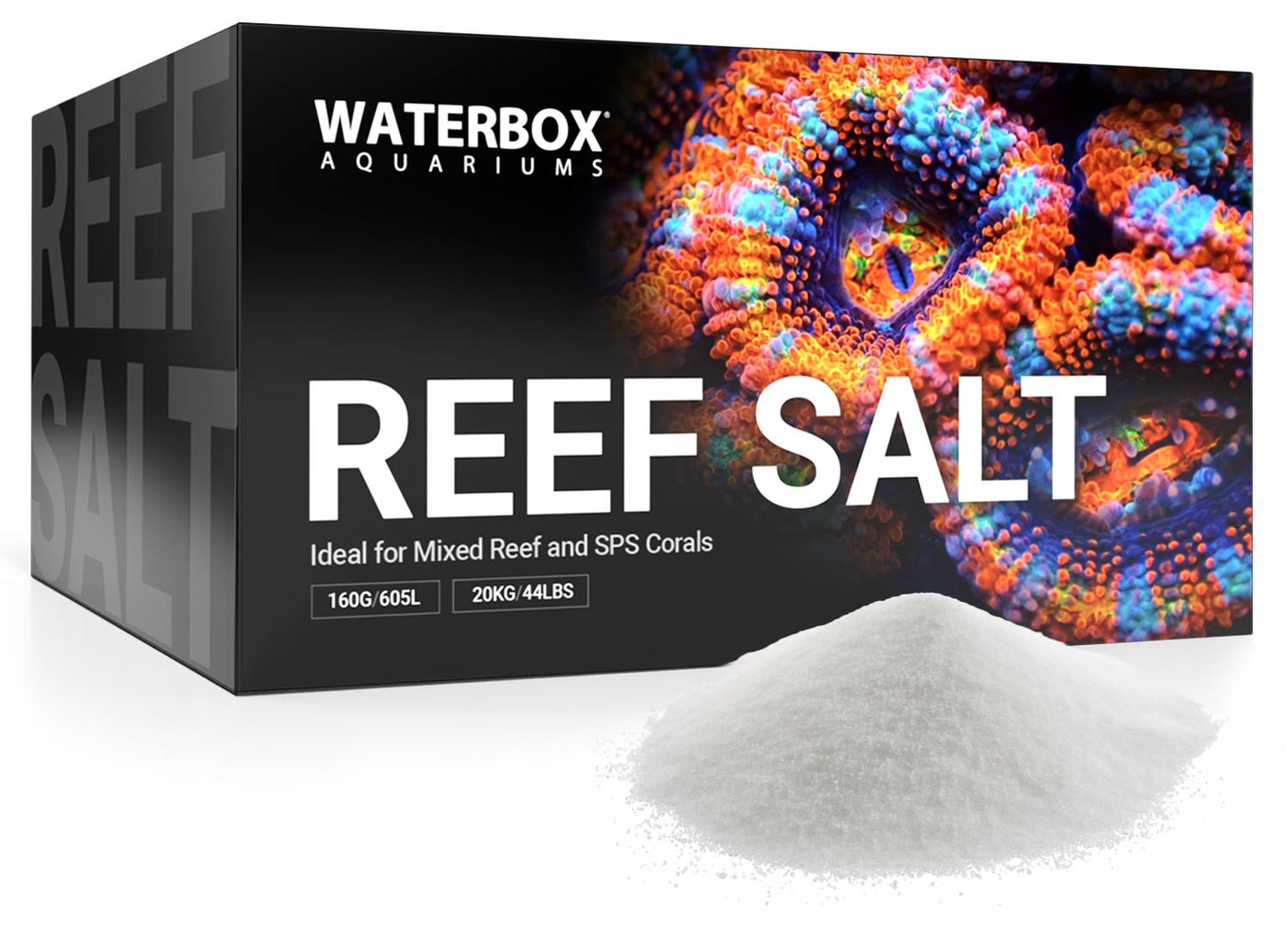 Benefits of Advanced Formula Synthetic Sea Salts
Waterbox Aquariums® salts are manufactured under strict laboratory supervision to meet the highest quality standards. Our synthetic salts are made from carefully selected raw materials and components. With a synthetic sea salt, we can develop and maintain very strict protocols regarding quality and unwanted compounds and organics. All batches of SEA and REEF salt are manufactured in small batches and ICP tested for exact parameters.
Ultra Premium Grade Reef Salt
Formulated for the Waterbox Method
We formulated our REEF SALT with optimal coral growth and coloration in mind. Our proprietary blend of major and minor trace elements combined with ideal Calcium, Alkalinity, and Magnesium levels make our salts ideal for water changes using the Waterbox Method of Reef Keeping.
*Water parameters will change depending on salinity levels.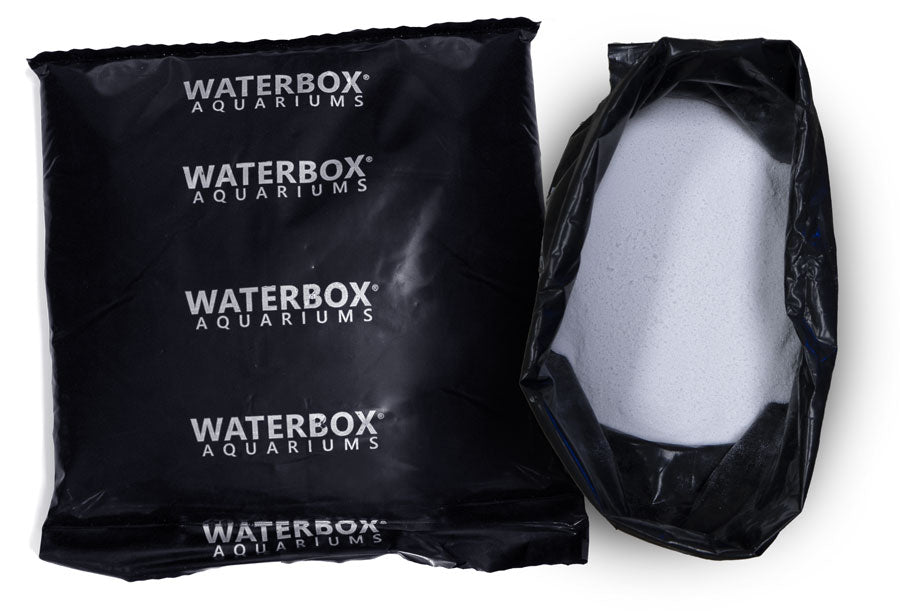 How It's Made
Waterbox Aquariums® salt mixes are manufactured under extremely strict and rigorous laboratory supervision to meet the highest quality standards. All REEF and SEA salts are manufactured in small 2000lb batches(roughly 1 pallet of salt) and are ICP tested at frequent intervals to ensure quality and consistency. This way each box of salt provides you with the same results.
Waterbox 20kg Boxes are packaged in 4 individual black bags to ensure freshness as well as to protect against light exposure. Opened bags should be securely closed in between uses and stored in a cool and dry location.  
Frequently Asked Questions
Start with approximately ½ cup salt to 1 gallon of water. Once mixed with the base amount you can adjust the salinity to your desired level by adding more salt or water.
 
S.G.
Salinity
Approximate Salt Mix
(Per 5 Gallons)
Fish Only
1.0226
30PPT
Fish Only

Soft Coral

1.0249
33PPT
Soft Coral
Mixed Reef
1.0256
34PPT
Mixed Reef
SPS
1.0264
35PPT
SPS
Always use RO/DI freshwater as you never want to use tap water in your saltwater aquarium. The ideal water temperature for mixing is between 74- and 76-degrees Fahrenheit. You can raise the water temperature after mixing is completed to match your aquarium temperature to avoid fluctuations.
| Salinity | Alk (dKH) | Ca (mg/I) | Mg (mg/I) | K (mg/I) |
| --- | --- | --- | --- | --- |
| 30 ppt | 7.3 - 7.6 | 320 - 340 | 1140 - 1200 | 330 - 350 |
| 33 ppt | 7.7 - 8.0 | 340 - 360 | 1200 - 1260 | 360 - 380 |
| 35 ppt | 8.3 - 8.9 | 380 - 400 | 1260 - 1300 | 380 - 400 |
Stir or use a small circulation pump to mix the salt for 15 minutes or until water is clear. 
You can store the mixed saltwater for up to 5 days in a closed container. Due to chance of evaporation test salinity before use. You do not need to circulate the mixed salt during storage but is beneficial to mix briefly before use.
Waterbox Salt is packaged in black bags to protect against light exposure. Opened bags should be securely closed in between uses and stored in a cool place.
Any changes to an aquarium should be made over time to reduce the risk of causing fluctuations to your water parameters which can stress livestock. Our recommended method for switching salt is to do a weekly 10% water change with Waterbox Salt for the first 4-6 weeks and then resume your regular water change percentage and schedule.
Waterbox Sea salt is designed as a more economical option for fish only systems or reef aquariums with only soft corals due to the lower Calcium and Magnesium levels. 
Waterbox Reef salt is designed for mixed reefs, SPS and invertebrates – providing higher Calcium and Magnesium levels which are key building blocks of LPS, SPS and invertebrates. 
You can find the batch number under the lid of the box.
Test kits available to hobbyists are not able to measure changes with 100% accuracy and can sometimes be used incorrectly. Any variation is typically less than 3% and will have no impact on the aquarium inhabitants.